The 2021 Subaru Love Promise Community Commitment Award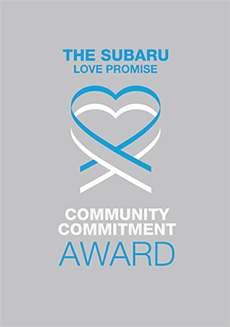 We've been nationally recognized for our dedication to our community and the Subaru Love Promise.
We're honored to receive the 2021 Subaru Love Promise Community Commitment Award. This award nationally recognizes Subaru retailers who are making the world a better place while demonstrating an outstanding commitment to supporting passions and causes in local communities. These efforts are focused in important areas such as the environment, community, health, education, and pets.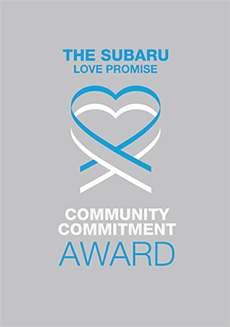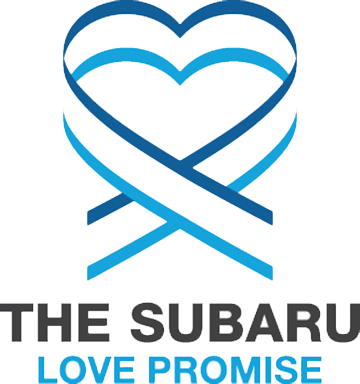 What is the Subaru Love Promise?
Subaru and our retailers believe in making the world a better place and the Subaru Love Promise is our vision of respecting all people. This is our commitment to show love and respect to our customers and to work to make a positive impact in the world.
How is Bob Moore Subaru dedicated locally to the Love Promise?
Our Love Promise can be seen in various partnerships with local charities and non-profits. We're grateful for the opportunity, not only to be a part of our community, but to serve it as well.
North Highland Elementary
LLS Ok Chapter, OK foundation for Autism
Love Promise Stories from Bob Moore Subaru
Subaru and Bob Moore Subaru believe in making a positive impact on the communities in which we live and work. We uphold that belief through our Love Promise Community Commitment. Every month, we select inspiring stories from customers and partners from around our area who strive to support our collective commitment and feature them here
Boy and Women of the year parade - Kristi C
The 2021 Parade for Heroes! On Thursday, April 8th 2021, we sponsored our Boy & Girl of the Year, Dylan and Audra, with a drive-by parade-- and an opportunity to celebrate our heroes as we near the midpoint of the 10-week Man & Woman of the Year campaign!
---
Subaru Loves to Care - Card Making for a Pen Pal - jamiie c
Bob Moore Subaru employees wanted to do something nice for a nursing home resident during these unprecedented times. We took time to color, write notes, send cards and make a blanket for Elk City nursing home patient, Kat. Kat reached out on the Bell Avenue nursing home page asking for a pen pal. Kat enjoys dogs, nature and the EARTH, so we thought Kat would be perfect to adopt as our Bob Moore Subaru Pen Pal.
---
World Gorilla Day - candice r
World Gorilla Day was a fun day of learning about Gorillas! Guests enjoyed a nose matching game, comparing handprints, watching Gorillas with their enrichment and learning why donating old cell phones can actually help Gorillas. Bob Moore Subaru was the sponsor of the day and provided a fun photo booth and fact signs for guests to learn about the amazing Gorillas!
---
Subaru Loves to Help! Making Dog Treats! - Landry w
Landry and Torie are great customers of Bob Moore Subaru and they wanted to do something nice for a shelter in Oklahoma City, so they made lots of dog treats for the dogs looking for a forever home at the shelter. Landry and Torie spent a day making treats and then delivered them to the shelter.
---
Monarch Day at the OKC Zoo - Candice R
The OKC Zoo and Bob Moore Subaru called on guests to save the monarchs from their plight in the wild. People fluttered to the OKC Zoo on Sept 12, 2020 to help plant a pollinator garden. Families and individuals also participated in hands-on projects providing vital habitat for native pollinators. We also had story time to allow kids and adults to learn more about butterflies. This is just another way Subaru is showing how they Love to Learn and Love the Earth and Love to Care!
---
World Elephant Day - candaince r
Bob Moore Subaru is the proud sponsor of world elephant day at the OKC Zoo. World Elephant day was full of wonderful activities for all ages attending the zoo. Bob Moore Subaru provided photo booth photos to all guests, animal enrichment for the elephants, and conservation education for all guests attending.
---
Bob Moore Subaru LLS parade - corey r
Bob Moore Subaru is the presenting sponsor of the LLS Man Woman of the Year, we arranged a few people to honor some amazing kids fighting cancer and LLS.
---
Subaru Loves Pets Free Vaccination Clinic - Jessica W
The Underdogs Rescue was awarded a grant from the ASPCA through Subaru Loves Pets initiative to host a free vaccination clinic for our community. It was a hit! We were able to give 55 pets and their families free vaccinations including FVRCP for cats, DAPP for dogs, and rabies for both! This was a wonderful event to help those in need and we are ready for round 2! Thank you Subaru!
---
Putting for Paws - Jessica W
Bob Moore Subaru has partnered with The Underdogs Rescue this year and we could not be more grateful. In partnership with Prima Pitbull we had our first golf tournament and thank you to the Bob Moore Subaru sponsorship donation for prizes and the course reservation it was a huge success! We also had t-shirts for our players as well as grab bags! We raised over $4,000 for the rescues and we did not have to spend anything out of pocket thank you to Bob Moore Subaru and their love for pets.
---
Land of the Free - Jessica W
Our sweet girl Liberty was saved an hour before she was set to be euthanized and right before the 4th of July! She is a young spunky pup who needed a little guidance. We picked her up in our vehicle from Bob Moore Subaru to save her from euthanasia and we also took her to an 8 week training program in Lexington, Oklahoma and without our vehicle it would not have been possible. Thank you for helping us save lives Bob Moore Subaru!
---
Homeless Alliance Barber Shop - Bruce W
Proud to share that our second location is officially 'open for cause' at The Homeless Alliance Day Shelter where through our volunteer group, the Hair Collaborative, we will be providing professional barbering and cosmetology services free of charge to clients. Our deepest gratitude goes out to Charles Davis, Bob Moore Subaru, & the Subaru of America, Inc., Inc. team for their generosity in making the shop possible. Big thanks to our media friends, volunteers, and partners for showing up and supporting our first day in operation, and to the Homeless Alliance for the important work they're doing to serve our community. If you're a licensed barber or stylist who is interested in volunteering for shifts please visit www.rootedokc.com and click on the Hair Collaborative. #subarulovestocare #subarulovepromise
---
Bob Moore Subaru - Loves To Care! - Kristi C
The Oklahoma Chapter of The Leukemia & Lymphoma Society (LLS) was thrilled to partner with Bob Moore Subaru for the third consecutive year for their Subaru Loves to Care program. Bob Moore Subaru chose to spread love, hope and warmth to pediatric cancer patients at the Children's Hospital at OU Medical Center - Jimmy Everest Center for Cancer and Blood Disorders by delivering warm blankets, arts & craft kits and "message of hope" cards to the patients and their families. Charles Davis, General Manager of Bob Moore Subaru and his wife, Lisa Davis, LLS Oklahoma 2019 Woman of the Year truly do "Love to Care". The Davis's led the charge for the third year to spread love and hope to children battling cancer knowing that small comforts make a big difference. This delivery had special significance to the Davis family as they lost their 7 year old daughter, Mighty Mia, to Lymphoma in 2017. "I was honored to be able to deliver a little comfort to children and their families at the Children's Hospital at OU – Jimmy Everest Center. Thank you LLS Oklahoma and Bob Moore Subaru," said Lisa Davis – LLS Oklahoma 2019 Woman of the Year. This year Bob Moore Subaru partnered with Connor Lloyd, who is the LLS Oklahoma 2019 Boy of the Year and a young boy of action who refuses to let cancer slow him down. Connor Lloyd and his father Neil met Lisa and Charles Davis and the Bob Moore Subaru team as well as the LLS Oklahoma staff and volunteers for the Loves to Care delivery. Connor helped to rally the team to assist in spreading the love at Children's Hospital where he was treated. Connor was diagnosed with Acute Lymphoblastic Leukemia just weeks after his 3rd Birthday in December of 2017. Connor is currently in the maintenance phase of his Leukemia treatment which will continue through 2021. He has done so well in treatment that the Doctors have released him to normal childhood life again– allowing Connor to go back to school and resume doing all the things he loves. "Subaru of America and Bob Moore Subaru have helped us to reach far more children who are battling blood cancer than ever before. The awareness and hope that the Subaru hospital deliveries bring to families are a bright light in a dark time. We are so thankful for this opportunity to support patients in a unique way" Kacy Lowe,Executive Director of the Oklahoma Chapter of The Leukemia & Lymphoma Society. Bob Moore Subaru & Subaru of America have had a major impact on the Oklahoma Chapter of The Leukemia & Lymphoma Society. In 2019, Bob Moore Subaru was the Presenting Sponsor of the 2019 Oklahoma Man & Woman of the Year Campaign and also have provided a 2019 Subaru Outback for the entire staff of LLS Oklahoma to utilize in their work to fulfill the mission to cure leukemia, lymphoma, Hodgkin's disease and myeloma, and improve the quality of life of patients and their families. Beating Cancer Is In Our Blood - Together We Are Unstoppable!
---
The OK FreeWheel + Freewheel Ride Ambassador - Jason D
The OK Freewheel's vision is simple: through bicycling, connect Oklahoma's unique peoples, cultures, communities, and landscapes. We celebrate a happy, healthy, safe and sustainable Oklahoma. We have always felt like that another way to say that is: Share the Love.. making this partnership with Bob Moore Subaru something we could not be more excited about! The Freewheel Ride Ambassadors and the Oklahoma FreeWheel SAG program are powered by Subaru. Our Ambassador riders are a group of like minded folks that want to promote bicycling in OK. They show up to ride across the state and help promote the Freewheel - a cross state, 400+ mile, 7 day bicycle tour that happens each June and also our weekend festival, Fandango, that happens in October. They also give tips, tricks, and companionship to riders in their local areas and work hard to promote the outdoors, safe riding, adventure, and stoke! Our SAG Support (powered by Subaru) also provide full support to the 400+ riders on this bicycle tour each June -- providing rides when needed, mechanical assistance, visibility on the roads during the ride, water and food stops, and whatever else these riders need. This is vital and something that now has even better wings thanks to the partnership with Bob Moore Subaru. In short - we want to see people getting out to crush something they never thought possible. For some, that might mean doing a 40 or 60 mile ride. For others, that could be completing their first Century (100mile) ride. Maybe it is someone's first bicycle tour. No matter what the goal - we want to help them get there with a HUGE smile on their face. We couldn't think of a better partner to help our cycling friends get out there and make it happen. Our stories are similar. What better support that a company that wants to take you places you've never been? Look for us on the roads this June as we ride from Hugo, OK to Sedan, KS and keep an eye out for those Bob Moore Subaru's helping along the way. Get out there. Smile. Do something that seems impossible. Bob Moore Subaru believes in this mission and has stepped up huge for us to help provide the place and support to bicycle riders across the state and country to hit their goals on the bicycle. Through this partnership, we know we can make progress towards a safer, more healthy, Oklahoma!
---
The Underdogs Mobile - Jessica W
Every single day we are picking up dogs and trying to find transportation to get the dogs where they need to be. With the help of Bob Moore Subaru providing a vehicle, we have been able to transport countless dogs to and from their vet appts, adoption events, and most importantly the shelter to save their lives! We would not be able to do this without our community partner and the animals are eternally grateful.
---
2018 Share The Love Partnership Experience - Chase P
We at the OKC Dream Center seek to reach, rescue, and restore those isolated by poverty in OKC and make dreams come true. We achieve our mission by building relationships with people through four primary strategies: 1. Meeting basic needs• Food pantry• Clothing closet• Seasonal drives (coats, Christmas toys, school supplies) 2. Preventative programs for at-risk kids and youth• Mentoring Mondays• Warriors Wrestling (practices at 5000 S Santa Fe)• Afterschool• Year-round and summer Feeding Program and Daycamp 3. Community Resource Center• Computer lab for job searches and applications• Volunteers assist people applying for employment, housing subsidies, scholarships, and other resources• Foster care intervention – mentoring parents, providing transportation to appointments 4. Dream Center Living• Transitional Living Center for men coming out of prison or rehab and connecting them to resources to help them make successful transitions into society. We were so honored to be selected as the local charity partner of the 2018 "Share The Love" event with Bob Moore Subaru. When we were presented with the award check at our 2019 Night of Dreams Gala event, we were blown away to receive $30,464.00 to go toward our programs. So many lives are impacted on a daily basis through our programs that for every $1 donated, we are able to put $7 of restoration back into our community. In 2018, we served 11,324 free meals to kids and teens (over 940 meals per month) and had over 9,000 kids participated in our summer and after-school programs. Partnerships with organizations like Bob Moore Subaru help make the daily impact of our programs possible and change people's lives like Maeisha's story. Like many youth and young kids, Maeisha was first served by the programs of the OKC Dream Center when her mother and her were invited to Inner City Church and their weekly services by a family friend. They quickly got involved and volunteered often. Around age 15, Maeisha's mom became ill and hospitalized during her freshman year in high school. Maeisha had to grow up fast at this stage of life in order to take care of her mom and help pay bills, get food and household items each month while staying caught up with school. At school, she was bullied and soon turned to cut try to cope but realized that her mom needed her and that she was more than what the kids at school thought of her. Maeisha and her mom were able to get help through the programs at the OKC Dream Center by showing them love and helping with food, clothes, and other assistance even today as they need it. Maeisha continues booking her mom's doctor appointments and transportation, administering medication, and other things while continuing school and volunteering at the OKC Dream Center. Maeisha is scheduled to graduate this year from high school and continue in her education. At the OKC Dream Center, Maeisha soon discovered that she and her mom had finally found a place that will always do what they can to help fill a need. Maeisha discovered a place where she could find comfort in the Lord whenever she feels unloved, unimportant, or insecure. She discovered healing from the pain of her past.She discovered joy in her heart. And most importantly, she discovered unconditional love. Through the food, clothing, and community resources she found at the OKC Dream Center, she's learned a truth that many of us take for granted: There is always hope. Maeisha loves volunteering with our summer and after school programs through helping cook meals and developing and fostering positive relationships with the kids and younger youth that come to the OKC Dream Center. In life, circumstances can change and impact our lives in an instant, and the enemy never sleeps. Your partnership helps us to meet people at their place of need every day in spite of any circumstances. Because of friends like you, we can provide a constant light in the darkest time of someone's life. If you're someone who is looking to get more involved with the Dream Center and volunteer your time, you can also email us at info@dcokc.org #MakingADifference #DCLovesOKC
---
Bob Moore Subaru Supports Conservation Education - Autumn H
In 2018, Bob Moore Subaru partnered with the Oklahoma City Zoo to provide two new vehicles for the Zoo's educational outreach program, helping to bring the message of animal conservation to rural and underserved communities across Oklahoma. The new ZOObarus replaced 12-year-old vehicles with over 100,000 miles. Thanks to Bob Moore Subaru's generous, continuing sponsorship of the program, the OKC Zoo is able to transport educators and animal ambassadors all over the state. Animal ambassadors are essential to building appreciation for wildlife conservation in the Zoo's education programs. A variety of animals appear as educational animal ambassadors: small to medium mammals, birds, snakes, geckos, tortoises, frogs and more. In addition to sponsoring the ZOObaru outreach program, Bob Moore Subaru has supported the OKC Zoo's conservation initiatives by sponsoring a number of conservation fundraising events and animal awareness days in 2018 and 2019. From everyone at the Oklahoma City Zoo, thank you Bob Moore Subaru for helping us to connect people with wildlife and wild places!
---
Pedals for Paws and Silent Auction - Lindsay O
Pedals for Paws and Silent Auction was a fundraiser created to raise much-needed funds for 2 local dog rescues, The Underdogs Rescue and Prima Pit Bull Rescue. The 2 rescues teamed up to raise money to not only assist in the daily expenses of saving and caring for animals but for the common goal of building sanctuaries. Building a sanctuary is not an inexpensive project, but will help both rescues save more of Oklahoma's unwanted pets by providing more space for the animals to live until they find their forever homes. Knowing Bob Moore Subaru supports the community and especially loves dogs, we reached out for potential support. We were beyond thrilled when Bob Moore Subaru generously agreed to match our fundraising efforts dollar for dollar up to $4,000! The fundraiser started with a benefit indoor cycle class at CYCLEBAR. It was a fun, high energy class full of fellow dog lovers! Immediately after the ride, we kicked off an online auction that ran for one week. We had 23 baskets that we auctioned off thanks to generous donors around the OKC area. We raised a combined total of $4179.48! We are thrilled with the outcome of this fundraiser and BEYOND THANKFUL for Bob Moore Subaru for stepping up and almost DOUBLING what was raised! 100 percent of the money raised will directly help Oklahoma's homeless pets and allow us to make a bigger difference in the rescue community! I am still in awe of Bob Moore Subaru's generosity and willingness to help and make this fundraiser the success story it was. THANK YOU BOB MOORE SUBARU FROM THE BOTTOM OF OUR HEARTS AND A MILLION TIMES OVER! Your friends at The Underdogs and Prima Pit Bull Rescue
---
Bob Moore Subaru Presents National Dog Day - Matt G
Bob Moore Subaru presents National Dog Day was held at the OKC Zoo, Sunday, August 26, from 10 a.m. to 2 p.m. National Dog Day gives us cause to celebrate all breeds of dogs and recognize the number of dogs in need of permanent homes. Representatives from the Bella SPCA were in attendance from 10 a.m. to 1 p.m. hosting an adoption event in the Zoo's entry plaza. A couple of pups found their new forever families! (see Lilly shown with her new family in the photo) Additional event activities included: • Free Subaru dog bandanas courtesy of Bob Moore Subaru for the first 1,000 guests that visit.• Many kids participated in the Zoo's free Eye Spy Safari for a chance to win free Subaru Sunglasses, courtesy of Bob Moore Subaru. • Special Keeper Connection education opportunity was held at the Zoo's African Painted Dog habitat, where guests learned more about our endangered dogs from the animal experts entrusted to care for them. Subaru owners were able to leave their pups in the Zoo's pet hotel for free on National Dog Day thanks to Bob Moore Subaru as well. It was a great day for all!
---
Bob Moore Subaru Loves To Care - Kristi C
The Subaru Loves to Care Month was a special and very personal campaign for the staff at Bob Moore Subaru of Oklahoma City. On Monday, July 9th, Charles Davis, General Manager and his wife Lisa Davis who oversees marketing for the dealership, delivered Subaru blankets, bags, and care cards to Children's Hospital at OU Medical Center – Jimmy Everest Center for Cancer & Blood Disorders in Children. This delivery had special significance to the Davis family as they lost their 7 year old daughter, Mia, to lymphoma just last August. "The mission of LLS is important not only to Bob Moore Subaru because of our Share the Love Program, but it's very personal for us as we lost our 7 year old daughter, Mighty Mia, to lymphoma last summer. In addition, our Master Technician, Shawn Best, lost his daughter, Kristin, to cancer as well at age 18. We hope that this partnership helps carry the message of LLS to more families like ours," said Charles Davis. Mia was adopted by their family after she was left in the NICU at an Oklahoma City hospital when she was 2 days old. After overcoming a heart transplant and a number of other health challenges and special needs, Mia was diagnosed with lymphoma on May 17th, 2017. Mighty Mia fought hard for her life, but succumbed to the cancer just three short months later on August 17th, 2017. The Bob Moore Subaru team and the Oklahoma Chapter of the Leukemia & Lymphoma Society (LLS), delivered 80 blankets and bags with messages of hope written by Subaru customers, and LLS care cards to those children fighting cancer. The team at Bob Moore Subaru decided to utilize the blankets not only with the kids at OU Children's Hospital, but with their four-legged friend too! The patients and staff did the latest viral challenge, "What the Fluff," with Targa the therapy dog at OU Children's Hospital. Afterwards, Targa was tired from her challenge, so 4-year-old Grace and her sister tucked Targa in for a nap with a Subaru blanket and read her a story! Grace was diagnosed with Acute Lymphocytic Lymphoma in January. She and her family live in the panhandle of Oklahoma and have to travel more than four hours each way to treatment. She was one of a number of children who enjoyed their day with Subaru and LLS. The Leukemia and Lymphoma Society funds research and provides support to patients battling blood cancers today. Over the past 65 years, LLS has invested more than $1 billion to advance innovative therapies and save lives. Across the state of Oklahoma, a large number of patients find themselves faced with the choice between paying for their treatment and supporting their family. Aside from the costs of hospital care, co-pays, and other out-of-pocket expenses, there are unforeseen costs associated with treatment. The Oklahoma Chapter of LLS, through the generosity of partners like the Bob Moore Subaru, gave over $500,000 in financial assistance last year to Oklahomans. Bob Moore Subaru – Loves to Care Video https://www.dropbox.com/s/l3le3eu9h1h680q/LovesToCare.mov?dl=0Targa The Therapy Dog with Kids – "What the Fluff Challenge" https://llsdata.box.com/s/wiq7kas1158jwwkzf72sjkzufopdg5w7
---
ZOO ANNOUNCES WORLD TIGER DAY - Candice R
The Oklahoma City Zoo and Botanical Garden is celebrating World Tiger Day, presented by Bob Moore Subaru, Sunday, July 29, from 10 a.m. to 2 p.m. at the Cat Forest habitat. In addition to learning about one of the world's most magnificent species, Zoo guests can enjoy fun, free, educational activities and celebrate the first birthdays of tiger cubs Zoya, Ramah, Gusti and Eko! The World Wildlife Fund created World Tiger Day in 2010 with a goal to double the number of wild tigers by the year 2022. Informative displays, crafts and other activities will be on-site at the Cat Forest habitat, plus, a digital photo booth courtesy of Bob Moore Subaru will allow families and friends the opportunity to capture the moment and share their passion for conservation on social media. Snapchat users can access a special World Tiger Day filter that's available at the Zoo and Bob Moore Subaru on Sunday, July 29. Lancer Hospitality, the OKC Zoo's food and beverage partner, is providing free ice cream to those in attendance (limited quantity available). Breyers, the ice cream producer, uses sustainable palm oil practices in their manufacturing process, protecting critical tiger and orangutan habitats."World Tiger Day is about celebrating these icons of nature and raising awareness about what we can do to ensure they continue to thrive," said Tyler Boyd, curator of carnivores and hoofstock. "Facing threats from habitat loss and illegal hunting, it's critical to the future of the species that we act now." To celebrate the cubs' birthday, they will be presented special enrichment items at 10:15 a.m. in their outdoor habitat area at Cat Forest. Caretakers are preparing some of their favorite treats and packaging them in festive boxes to create fun, engaging activities for the animals.Also on World Tiger Day, guests driving Subaru vehicles will receive complementary valet parking courtesy of Bob Moore Subaru. Valet parking for other vehicles is $7. Bob Moore Subaru will be celebrating World Tiger Day at their dealership by giving away a pair of Zoo day passes to the first 10 individuals who test drive a Subaru and post a World Tiger Day selfie with the photobooth!Last summer, the Zoo received Zoya, a female Amur tiger cub born at Philadelphia Zoo, and integrated the cub with a litter of three Sumatran tiger cubs born here two weeks prior after Zoya's mother was not demonstrating maternal behaviors. This process, called cross-fostering, is rare with tigers, with only a few cases having ever been attempted and documented. Both Amur tigers and Sumatran tigers are endangered in the wild. Fewer than 500 Sumatran tigers may survive on that Indonesian island. Amur tigers, also called Siberian tigers, are found in far eastern Russia, with a few surviving in northeastern China. Sustained conservation efforts have resulted in recovery from near extinction for the Amur tiger. Fewer than 50 were thought to survive in the 1930s and 1940s, but the population has grown to about 500 today. Although Amur tigers have increased in the wild, tigers overall continue to be under tremendous threat. There are thought to be fewer than 4,000 total tigers surviving across their entire range in southeast Asia, Sumatra, China and Russia. The primary threat to tigers is poaching for their skins, bones and other body parts that are used in traditional Asian medicine. Habitat loss and depletion of prey species is also a threat in many areas.In 2016 the Zoo began a partnership with Rainforest Trust, a conservation organization whose mission is to work with local partners to purchase and protect threatened tropical forests. Using funds donated by guests through the Zoo's grassroots program, Round Up for Conservation, Rainforest Trust purchased 13,000 acres of rainforest in central Sumatra, an area five times the size of Oklahoma City's Lake Hefner. This lowland forest is rich in biodiversity and is now designated as a protected area, safe from conversion to palm oil plantations and logging. The area is patrolled to prevent illegal activities such as poaching. In addition to Sumatran tigers, it's home to some of the Zoo's most popular and endangered species including Asian elephants and Sumatran orangutans.Show your stripes for conservation during World Tiger Day! Located at the crossroads of I-44 and I-35, the Oklahoma City Zoo is an Adventure Road partner and a member of Oklahoma City's Adventure District. The Zoo proudly holds accreditations from the Association of Zoos and Aquariums, and the American Association of Museums. Guests are welcome daily from 9 a.m. until 5 p.m. with exhibit buildings closing at 4:45 p.m.
---
Bob Moore Subaru ZOObaru Educates! - Greg H
Education is in our nature! We'd like to extend a sincere thank you to our friends at Bob Moore Subaru for their generous donation to our education program with the addition of two ZOObarus, revealed this summer!The ZOObarus have enabled the OKC Zoo's education team to transport our animal ambassadors and educate children all over the state about wildlife and wild places!
---
Bob Moore Subaru Helps Vandalism Victim - Jeni M
I am an Oklahoma Teacher and am so thankful for the caring team at Bob Moore Subaru who went above and beyond when they heard about my vehicle being vandalized by a student. My husband, a National Guardsman, and a Subie Owner, was deployed at the time and so I had to figure out what to do and how to get my car repaired, my kids home and something for me to drive on my own. Thankfully, Bob Moore Subaru picked us up after the car rental company required additional fees that would have put us in a bind. They put us in a beautiful Forester to drive until my vehicle was repaired and helped coordinate with the tow company, glass repair, and insurance. A few days later, we picked up my vehicle with its new beautiful window and only two miles down the road toward home, my car jerks badly, a wrench appears on the display, and it will no longer accelerate. Luckily, we were able to get it parked in a nearby parking lot instead of being stranded on Kelly near 15th during 5:00 traffic. You won't believe it, but Bob Moore Subaru comes to the rescue again! They sent out a car and a mechanic. The mechanic ran a diagnostic test then decided to drive it himself and see what it's doing. When we arrived at the lot, they immediately put the kids and I back in a loaner vehicle again (a gorgeous Outback this time), and my vehicle spent a few more days with them while they check things out. I'm so thankful for the kindness and service we were shown at Bob Moore Subaru and will definitely be returning and recommending them to all our friends and family!
---
Bob Moore Subaru Loves Ally's House - Lori T
Oklahoma Pediatric Cancer Charity, Ally's House, Receives Large Donation From Bob Moore Subaru Bob Moore Subaru donates nearly $13,000 to family assistance nonprofit for the annual event OKLAHOMA CITY, OK, June 3rd, 2018 — A non-profit program for children with cancer diagnoses, Ally's House, has received a check worth $12,694 from Bob Moore Subaru in celebration of Subaru of America's annual "Share the Love" event. The mission of Ally's House is personal to Charles Davis, General Manager of Bob Moore Subaru, who selected the nonprofit as a 2018 "Hometown Charity." Charles and his wife, Lisa, lost their youngest daughter, Mighty Mia, to cancer last summer. Also, one of Davis' employees lost his daughter, Kristin Best, to cancer at age 18. Ally's House served as an extremely valuable resource to the Best family during that time. Ally's House has aided "Oklahoma children with cancer and their families – primarily in the area of financial assistance" for over 14 years, according to the nonprofit's website. Ally's House also annually hosts Camp Live-A-Dream, a classic summer camp experience catered to the needs of kids living with cancer. Bob Moore Subaru's "Match the Love" donation, a goodwill out-of-pocket contribution intended to give back to the Oklahoma community, will help fund this year's camp, along with other Ally's House family needs throughout Oklahoma. The $12,694 check was presented to Ally's House by Bob Moore Subaru at this year's Camp Live-A-Dream kickoff cookout Sunday, June 3rd. Camp Live-A-Dream will be hosted at the Central Oklahoma Camp & Conference Center, 1 Twin Cedar Lane, Guthrie, OK 73044. Last year, Subaru's tenth annual Share the Love event raised $23.9 million for Subaru customers' chosen nonprofits across the nation. This total included the $2.1 million raised by its 2017 Match the Love program on behalf of more than 660 local Hometown Charities. Bob Moore Subaru in greater Oklahoma City is a full-service Subaru retailer with a commitment to providing quality products, service and experiences to its customers and to share the love in the Oklahoma community.
---
ZOObarus Revealed - Charles D
NEW GENERATION OF OKC ZOO ZOOMOBILES, "ZOObarus" POWERED BY BOB MOORE SUBARU ¿Outreach Program Brings Animal Conservation Message to Rural and Underserved Communities Bob Moore Subaru is partnering with the Oklahoma City Zoo and Botanical Garden to provide two 2018 Subaru Outbacks for the Zoo's educational outreach programs bringing the message of animal conservation to rural and underserved communities across Oklahoma. Previously known as ZooMobiles, the new ZOObarus are replacing 12-year-old vehicles with over 100,000 miles.Transported by ZOObaru, animal ambassadors are essential to building wildlife conservation appreciation in OKC Zoo's education programs. The program's animal collection is distinct from the large collection of animals at the OKC Zoo, which are not used in programs. A variety of animals appear as educational animal ambassadors: small to medium mammals, birds, snakes, geckos, tortoises, frogs and more. In addition to outreach presentations, animal ambassadors are presented at Zoo camps and overnight group programs, educational programs at the Zoo and birthday parties.The Oklahoma Zoological Society, also known as ZOOfriends, raises funds through their Zoo Fund for Kids Scholarship to support educational outreach activities supported by ZOObaru. In 2017, ZOOfriends awarded $87,000 to schools and groups throughout the state. The OKC Zoo ZooMobiles, now known as ZOObarus, have travelled 17,610 miles, conducted 317 visits in 61 counties and helped to educate 11,254 Oklahomans in every corner of the state. Since 2014, 68,387 people have benefited from programs supported by ZooMobiles."The Oklahoma City Zoo and Bob Moore Subaru share a commitment to protecting wildlife and preserving wild spaces," Greg Heanue, OKC Zoo chief marketing officer, said. "We are grateful to have such a passionate partner and look forward to many years of continued collaboration."Bob Moore Subaru in greater Oklahoma City is located at 13010 N. Broadway Extension and is proud to serve Oklahoma County with quality Subaru vehicles. With the latest models like the new Subaru Forester, Outback, Legacy, Impreza, BRZ, and Crosstrek, Bob Moore Subaru has vehicles to fit everyone's need."All the organizations we support have one thing in common: the unwavering dedication to improve the world. We believe in being a positive force in something bigger and it all starts right here in our community," Charles Davis, Bob Moore Subaru general manager, said. "The Oklahoma City Zoo is a world-class organization providing a critical educational message. We are proud to join their mission to educate and inform."
---
Meals on Wheels of Norman Share the Love event - Lynn H
For the seventh year in a row Meals on Wheels of Norman partnered with Bob Moore Subaru in conjunction with the 'Share the Love' event. Our annual poinsettia sale provides plants for the Meals on Wheels clients. The Meals on Wheels annual Poinsettia Sale is a fundraiser and a community event. Each year staff members from Bob Moore Subaru volunteer their time to deliver poinsettias to our ill, disabled, and senior clientele. For many of the individuals served by Meals on Wheels, the poinsettia is the only gift they receive. They look forward to the special delivery each year from Bob Moore and the Share the Love Subaru. The volunteerism of our good friends at Bob Moore Subaru is always a tremendous help and we are very grateful for their support. Meals on Wheels of Norman, Inc. a 501 ( c ) ( 3 ) non-profit organization. Meals on Wheels of Norman, Inc. has been providing meals to homebound seniors for the past 45 years. The visit from the volunteer driver is often the only daily contact for these frail of health individuals. An average of 300 nutritious meals are served each day on 20 different delivery routes by our wonderful volunteer drivers. Meals on Wheels serves 70,000 meals and is a life-line for 750+ homebound seniors.Our annual survey results show that 100% of meal recipients say that they have a healthier diet and 99% are able to remain independent. 96% of the respondents report both improved emotional health and physical health. Another 92% state that they are less isolated due to the program and 99% say they feel safer.
---
Subaru & The Leukemia & Lymphoma Society Team Up - Libby K
Two blood cancer patients joined Integris Cancer Institute staff and a Bob Moore Subaru employee for the blanket drop on Friday, July 7th. The cancer patients enjoyed a sense of community during the meeting as they tried on wigs and shared their personal cancer experiences with each other. The blankets were warmly received by the patients and the Integris staff looks forward to distributing the rest of the blankets and craft kits to other patients currently in treatment.
---
Bob Moore Subaru Shares the LOVE w/Ally's House - Lori T
Every year since its conception in 2004, Ally's House has processed approximately 100+ applications for pediatric cancer patients and their families. The organization comes along side families as they navigate through the process of treatment and ultimately a new way of life. To help ease one of the many burdens on these families, Ally's House helps pay family bills or medical expenses while children are in treatment. If there is a financial need or struggle, Ally's House wants to be there to help so families can focus on their child, not their bills. Bob Moore Subaru's Share the Love Event was a huge success and the proceeds were given to Ally's House. To say it was a blessing to the organization is an understatement. Through the kindness and generosity of Bob Moore's employees and customers, Ally's House will be able to serve hundreds more families throughout the state of Oklahoma in 2017 and beyond.
---
Dogapalooza - Cindy A
This years annual Dogapalooza fundraiser benefited the animals at Second Chance Animal Sanctuary. It was such a great event and we were happy to be a part of it. Thank you Bob Moore Subaru for holding these events and helping local animal rescues with much needed funds. We are also appreciative of the Bob Moore Auto Group for their generosity to charities in our area!
---
3rd Annual Bob Moore Subaru Dogapalooza - Nicki S
The 3rd annual Bob Moore Subaru #Dogapalooza!A free dog wash, cool prizes, yummy treats and so much more! Have some fun with your pooch while supporting Edmond Animal Services, Government. -Free hamburgers and hot dogs, courtesy of Bob Moore Subaru - Cold treats from Summer Song Ice Cream Truck - Pet adoption and reduced-cost dog chipping by Edmond Animal Services (cash or check only, please) - Pet vendors & veterinarian information from: Sunset Veterinary Clinic, Central Park Dog Daycare, Best Friends Oklahoma City, The Dusty Paw, Paws for Life, Inc., and A1 Pet Emporium Edmond. - Free photos with your pet by PhotoVille. (Photos will be provided at the event. Also check our Facebook page after the event for a digital version!) All donations benefiting Edmond Animal Services!
---
Redbud Classic partners with Bob Moore Subaru - Patty A
The annual Redbud Classic is an Oklahoma City fitness tradition offering quality running and cycling events for athletes of all fitness levels. The event, held each April, has become synonymous with the beginning of spring in Oklahoma City. In addition to providing a great community fitness event, the Redbud has impacted the Oklahoma City community by donating more than half a million dollars to local non-profits in the past 33 years. These donations could not be possible without the many sponsors who contribute to Redbud each year. Bob Moore Subaru is a valued Redbud sponsor. In addition to their generous contribution, each year they provide pace cars for the race which are wrapped with the Redbud t-shirt artwork of that year. Redbud is proud to partner with Bob Moore Subaru as they help impact the Oklahoma City Community. On June 3, the Redbud Classic presented a $25,000 check to the 2015 beneficiary, The Boys and Girls Clubs of Oklahoma County. The Mission of the Boys & Girls Clubs of Oklahoma County is to enable and inspire all youth, especially those who need us most, to reach their full potential as responsible, caring and productive citizens. The organization now annually serves over 3,000 youth, 6-18 years old, impacting youth through character and leadership programs, art and technology, academic assistance, sports and nutrition and positive adult relationships.
---
Dogapalooza 2014 - Lisa S
Hundreds of dog lovers and admirers braved the heat and came out to the second annual Dogapalooza 2014 at Bob Moore Subaru. This fun event was an opportunity to adopt a dog and benefit the Safe Haven Animal Rescue Shelter dedicated to finding homes for homeless and abandon animals. More than 100 animals enjoyed a free dog wash. There were plenty of soapy pails and wagging tails. The event was a huge success. "Today is about giving back to the community, helping find homes for animals and about making friends. " said Dustin McIntosh, of Bob Moore Subaru. There was food and treats from "Hall's Pizza Kitchen", "Katiebug's Shaved Ice", and "Super Juice OKC". Reed Trimmer: Meterologist and Extreme Storm Chaser brought "The Dominator". We had Pet adoptions and $20 Dog Chipping by "Safe Haven Animal Rescue". Free treats from "Barking Dog Bakery". Sponsorship and donations from "One Lucky Mutt", "Smelly Mutt Club", "Best Friends OKC", "Central Park Dog Daycare", "Sunset Vetrinary Clinic", "A1 Pet Emporium", "Full Circle Obedience School", "Bark for Life of OKC", "The Dusty Paw", "Wild 104.9", and "98.9 KISS FM". There were over 170 volunteers and guest and hundreds of dogs washed, several adopted and a record number of dog chips!
---
Bob Moore Subaru Teams Up With Meals on Wheels of Norman, OK - Dustin M
On Wednesday December 3rd, 2014 Bob Moore Subaru teamed up with Meals on Wheels of Norman, OK to deliver poinsettias to Meals on Wheels recipients!
---
Bob Moore Subaru Partners With Toys for Tots To Collect Donations - Aislinn W
During the 2014 Holiday season, Bob Moore Subaru partnered with Toys for Tots. The mission of Toys for Tots is to collect new, unwrapped toys from October to December each year to distribute to less fortunate children in the community. A 2015 Subaru Outback was placed in front of the area's Whole Foods grocery store and volunteers were positioned outside the vehicle during prime shopping hours in November and December. At that time anyone that donated a toy was also given a Colorado Blue Spruce tree sapling courtesy of Bob Moore Subaru. A Holiday kick-off event was also conducted on December 4th that included Whole Foods and other area retailers. There was a large push for toy donations that were collected by local Marines, OKC Fire and Police departments. Live music, food trucks and holiday cocktails were served in a grassy area just north of Whole Foods. Santa, Mrs. Claus and Frozen's Elsa, Anna and Kristoff also made an appearance at the event. Bob Moore Subaru was well received during these events and seen as a true community partner. Bob Moore Subaru hopes to turn this into a long-lasting partnership that can become a holiday tradition for our community.
---